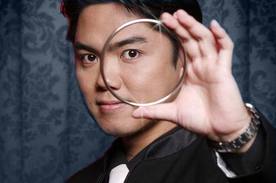 We are proud to announce the Shoot Ogawa lecture 2011 in Luxembourg. In case you haven't heard about Shoot yet, here's a copy of his bio:
Shoot Ogawa was born and raised in Tokyo, Japan. He began magic at the age of 10. Shoot has been featured on almost and every television channel in Japan and has performed his magic for talk shows, variety shows, and children's shows. He has produced more than ten videos featuring his original magic. Shoot has also starred as a character in "Magic Master", a popular Japanese teenager comic book. Now living in the United States, Shoot speaks fluent English and he has maintained two homes – in Los Angeles near the Magic Castle and Las Vegas.

From 1993 to the present, Shoot has won first place in more than ten competitions. In 2002, he took first place in London's MacMillan International Magic Convention and amazed the magic world with his Doubled-Hand Matrix and Ninja Rings routines. In March 2003, Magic Magazine featured Shoot on the cover. In the same year, he was awarded "Magician of the Year" in the Close-up Category by the American Academy of Magical Arts. In August 2003, Shoot's biography was published in Japan.
Since moving to America, Shoot has been featured in many major events including the famous Rolling Stone Party. He has also been intimately involved in theJapanese community. In January 2004, "Lighthouse", one of the most popular Japanese publications named Shoot Ogawa as one of the three best Japanese entertainers in America.
Shoot is a creator and performer of beautiful magic. His original magic has been featured in many magazines and tender through his numerous videos. He's also an advisor/consultant for TV and live events. Shoot is available for television, trade shows, casino shows, corporate events, lectures,and private events. If you are looking for that special performer who will knock you off your feet, look no further than the magic of Shoot Ogawa!
The lecture will take place in the "Centre Culturel" in Bivange, only a few minutes from the highway. The main language of the lecture will be english, but wewill translate to french or german if required. The capacity of the venue is quite high, so no reservations are required.
Where?
Centre Culturel Bivange
2, rue de Bettembourg
Bivange
Luxembourg
When?
8th of July @ 20h00
Doors open at 19h30
Price?
15.- EUR*
*MAGICA members who paid for the year 2011 will get in for free.